Welcome to Accumulations: A Bazaar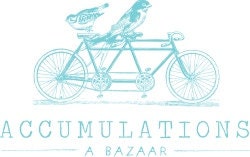 Hi Everyone! 
I'm Jayne, and this is my quaint little shop here on Etsy!
My shop is filled with vintage goodness and awesome collectibles. I try my best to bring you interesting and fun pieces. If you're ever in search of something, and you don't see it listed - please come back often to visit me. I have a vast amount of inventory waiting to be listed, and new items are been posted daily. 
I'm in the Twin Cities area of Minnesota. When I'm not on Etsy, I'm busy working on my b & m vintage shop, which is due to open in the near future. 
Looking forward to serving you! 🛍